This is going to be a long post so buckle your seatbelts and grab your snacks!
Today is my long awaited (from me at least) BOOKSHELF TOUR! I was originally going to film this, but the footage came out so shaky and I just sounded not like myself so I scrapped that idea and decided to go with photos instead.
So before we get into it, some information about my shelves.
I have 3 full sized shelves and one shorter shelf, as well as a few stacks throughout my apartment. The shelves themselves came from Walmart over the years, two I had since I was really little so I don't know if they make that style, but two were just purchased recently.
I don't really have an organizational system, the books are just there depending on how I liked the look of them.
These are my first two shelves, and they are the ones that I take photos or film videos in front of. These are the two that I love the most!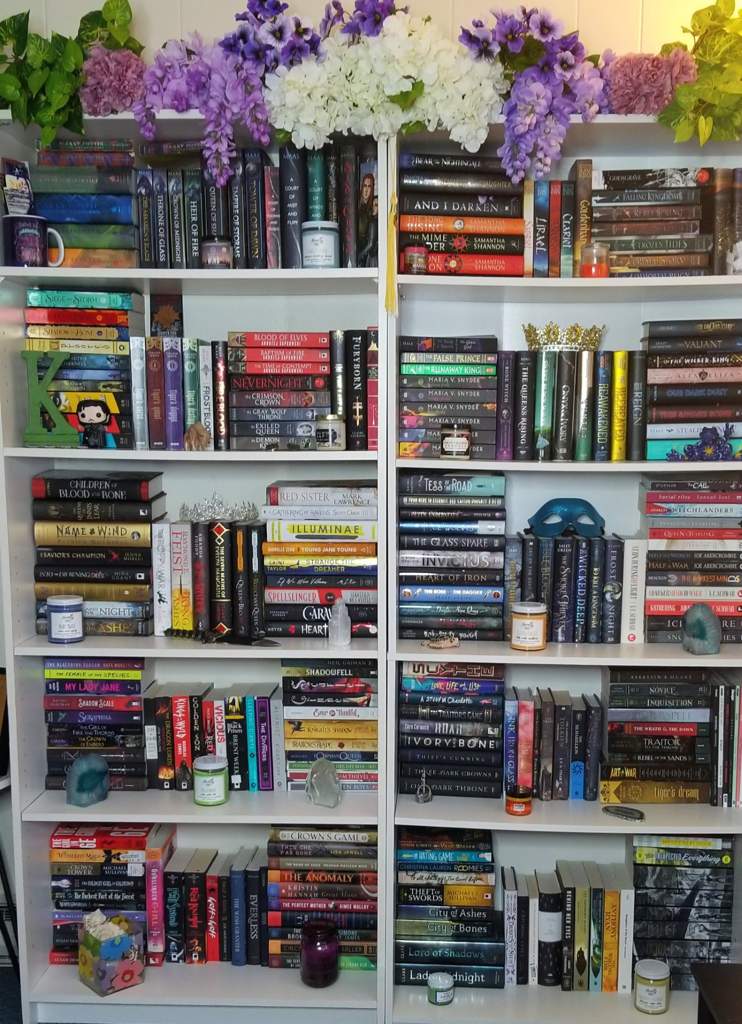 ---
Starting with the shelf on the left, the top holds my Harry Potter books, all of my Sarah J Maas books, and the Six of Crows duology.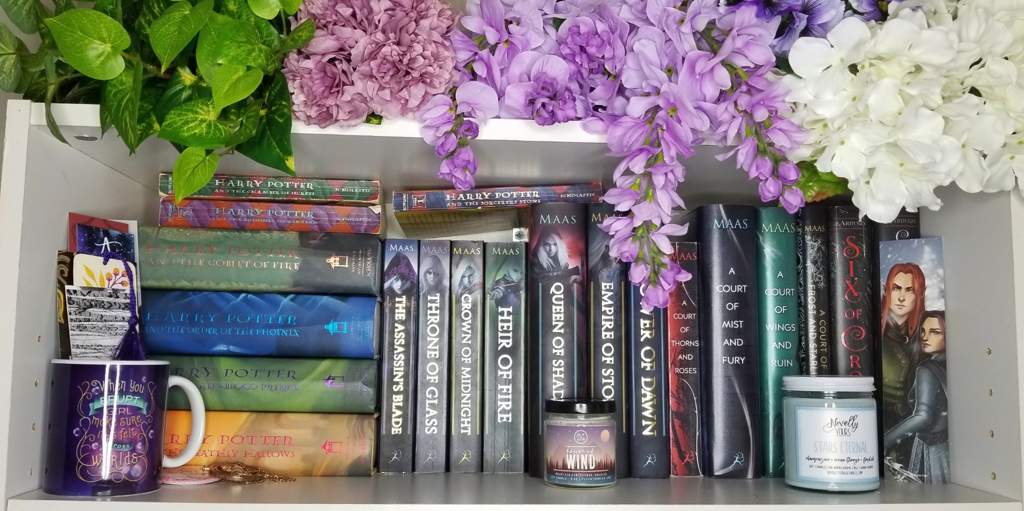 ---
Moving down, this shelf holds the Grisha trilogy, the Remnant Chronicles, Daughter of Smoke and Bone, the Tiger Saga, the first two books of the Frostblood series, the first three in the Witcher series, Nevernight, The Seven Realms series, the Last Namsara, Furyborn, and the Minalima edition of Beauty and the Beast.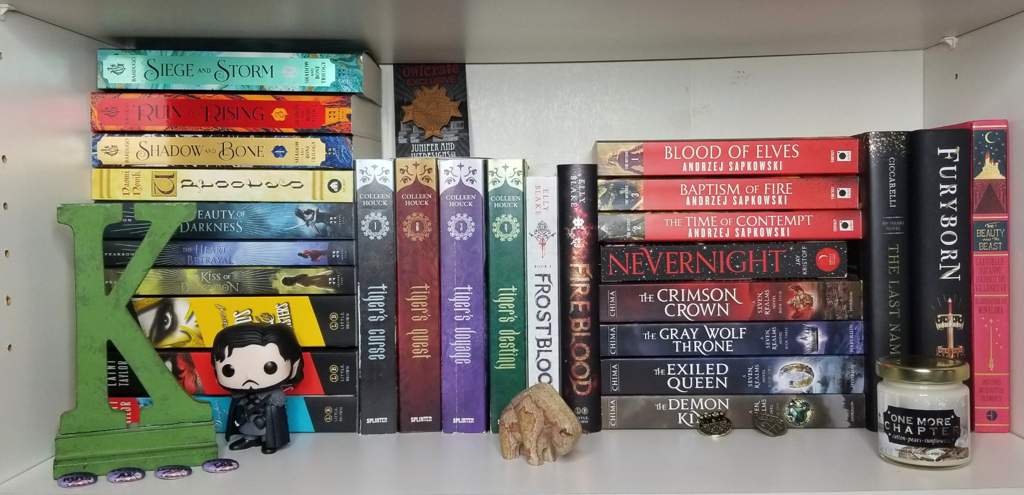 ---
Going down another shelf, this one has most of my taller hardbacks, many of which I haven't read yet with the exception of The Name of the Wind, King of Ashes, and I'm in the middle of Red Sister.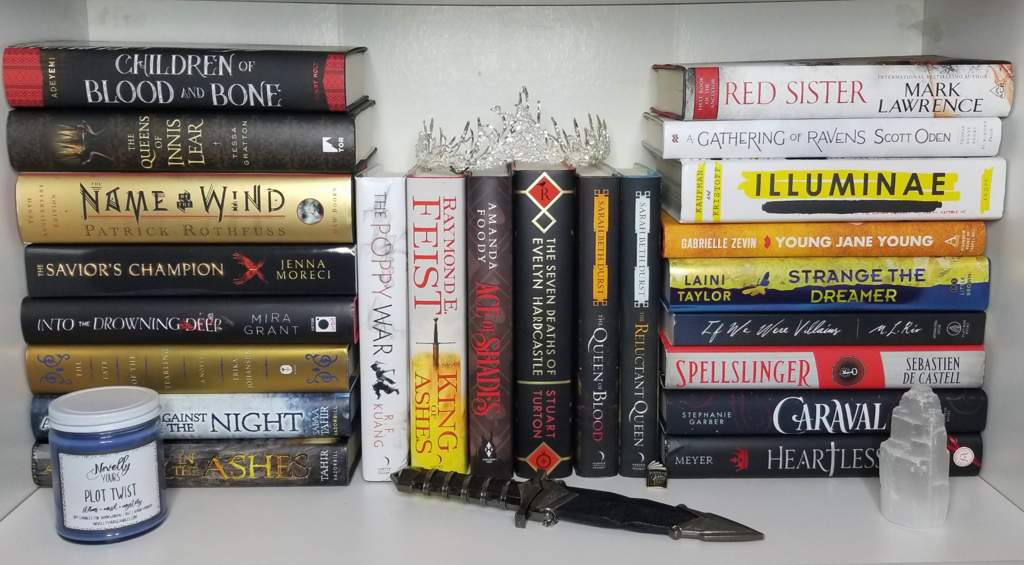 ---
This shelf is one of the ones that has a mix of different books because it's not usually seen in photos or videos. Again, I haven't read a lot on this shelf either, but I have read Kings of the Wyld and My Lady Jane.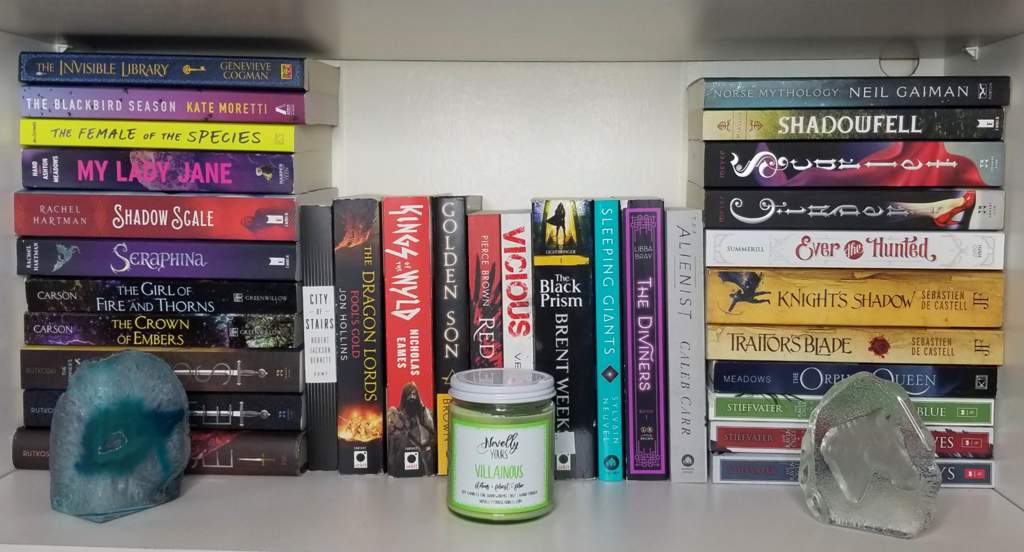 ---
This shelf holds all of my Book of the Month books to the right, plus some others that don't fit on other shelves. I haven't read any of my BotM books yet, which makes me feel really guilty. But then again, I haven't read most of these books yet.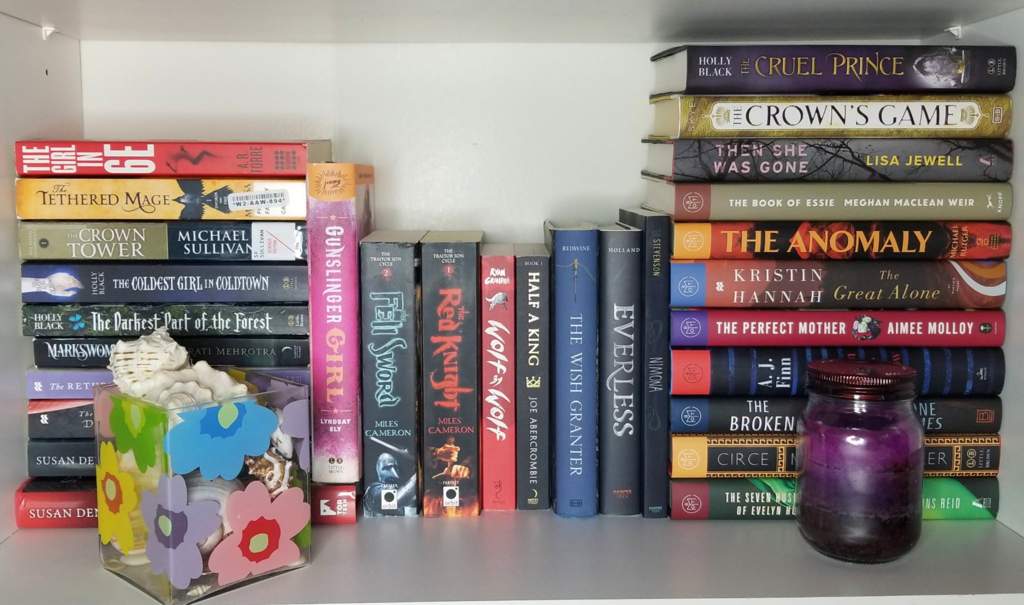 ---
Moving to the second shelf and back to the top. This shelf has a few series on it including The Bone Season, Sabriel (which I can't remember the series name of), and the Falling Kingdoms series.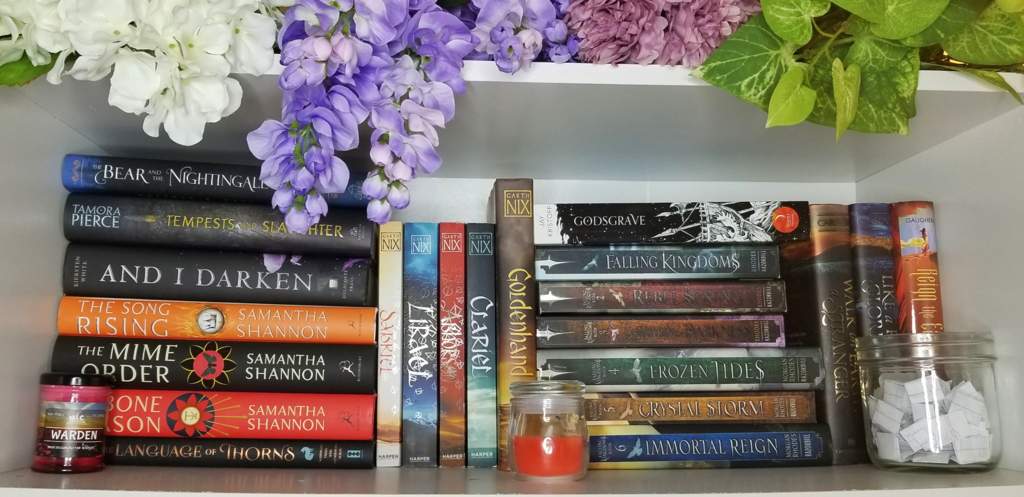 ---
This is another of my favorite shelves seen often in photos and videos, and surprise! Not a lot of books on this shelf have been read yet either. I have read Hunted, the Valiant, and The Queen's Rising. I'm a horrible book blogger.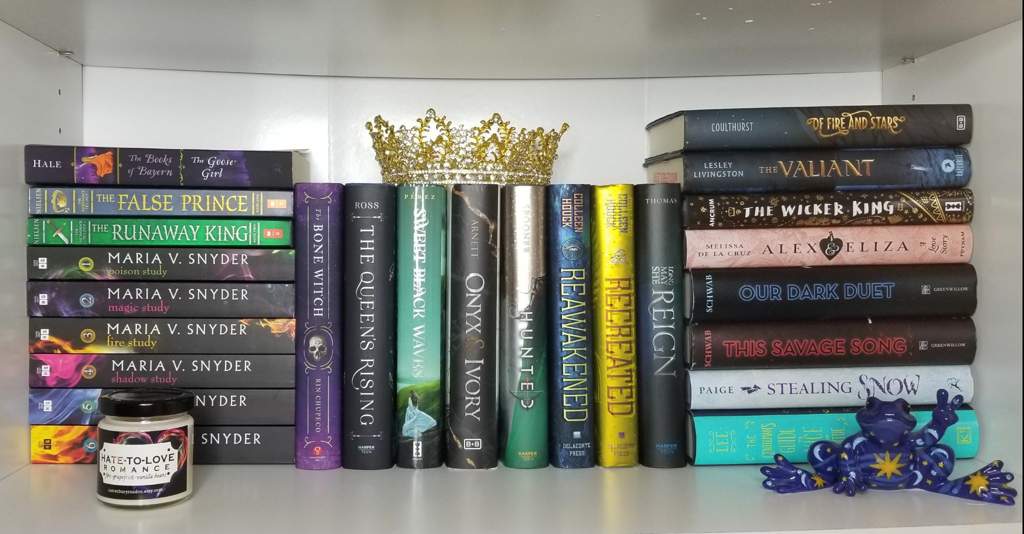 ---
This is the final shelf that I am truly in love with, and I have actually read a lot of books off this shelf. I've read the Shades of Magic series, most of the books in the middle and a few on the left.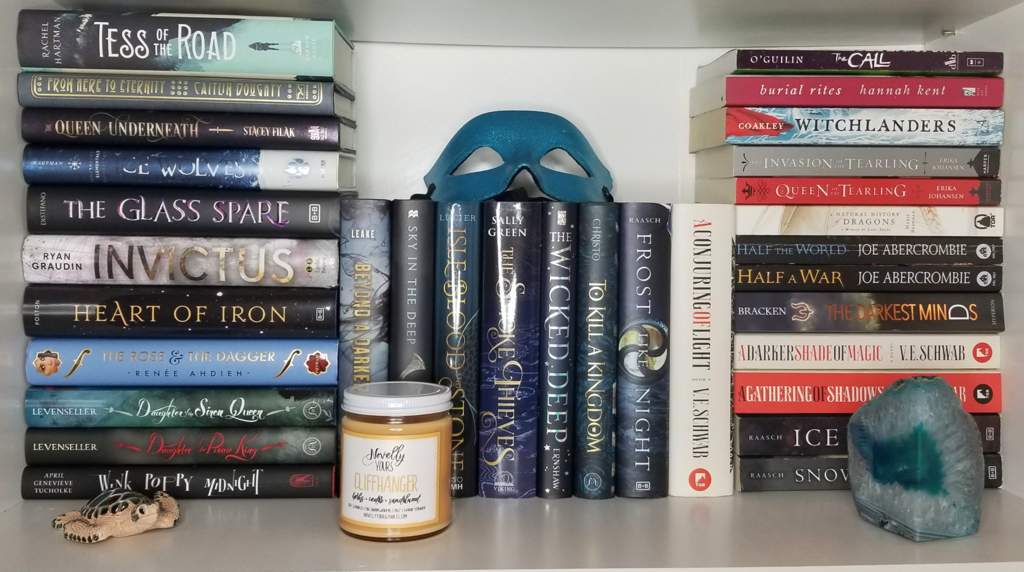 ---
This shelf holds my very small graphic novel/comic book collection on the right, and has the rest of my YA sized hardbacks that wouldn't fit on the two previous shelves. This also holds some of my Tolkien books which I just recently got so I haven't read them yet. *shrugs*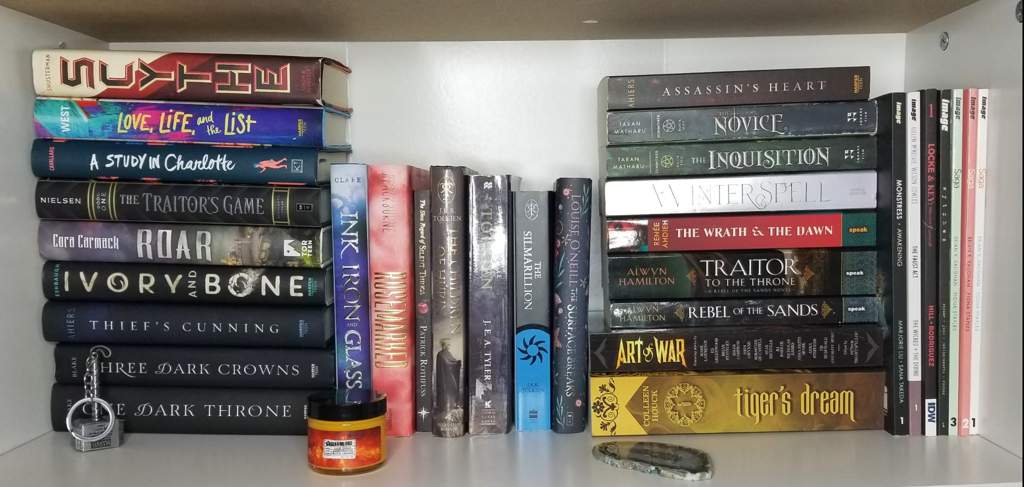 ---
And the final shelf for this section holds all of my Cassandra Clare books, which, you guessed it! I haven't read. In fact, the only one on this shelf I remember reading is Roomies. I did try the first two Shadowhunter books when I was younger which is why those are a different edition than the rest.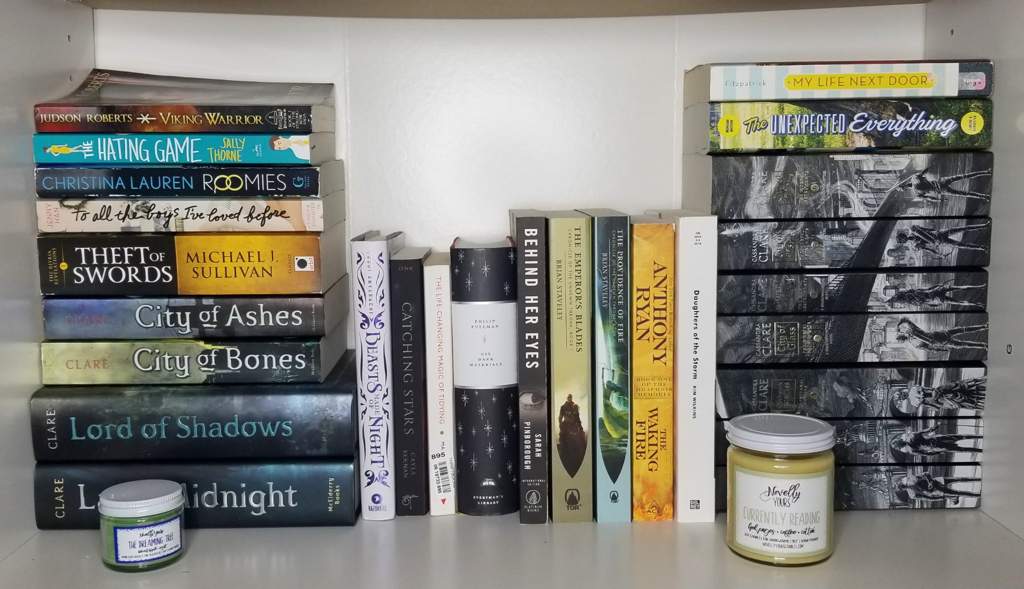 ---
Now moving on to my shorter shelf. Here is the overview, I love the things I keep on top!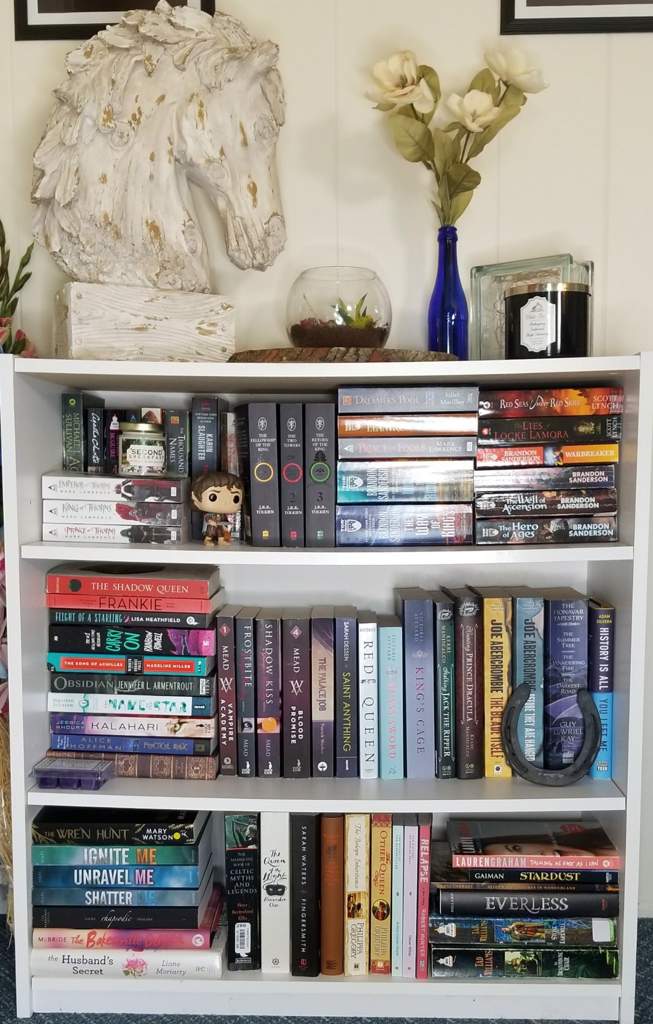 ---
This top shelf actually has two rows because these are all of my mass market paperbacks, which I actually don't mind reading! There are a lot of great series here, but so far I've only read a few of these as well. Shocker, I know.


---
There isn't really much to say about this shelf, other than it contains the Stalking Jack the Ripper series which I loved, plus the Red Queen series which I need to reread to get to War Storm.

---
And the last section for this shelf. I have only finished one book on this shelf and that would be The Bakersville Dozen. BUT this shelf also holds a book that my cousin wrote called Relapse, which I'm reading on and off to write a review!

---
Now to the final bookshelf. This shelf is basically either where my books end up before I donate them or ones that I just don't want to display on the other shelves because this one is more hidden in my apartment.

---
The top shelf holds my two favorite series growing up are here, the Inheritance Cycle and the Inkheart series!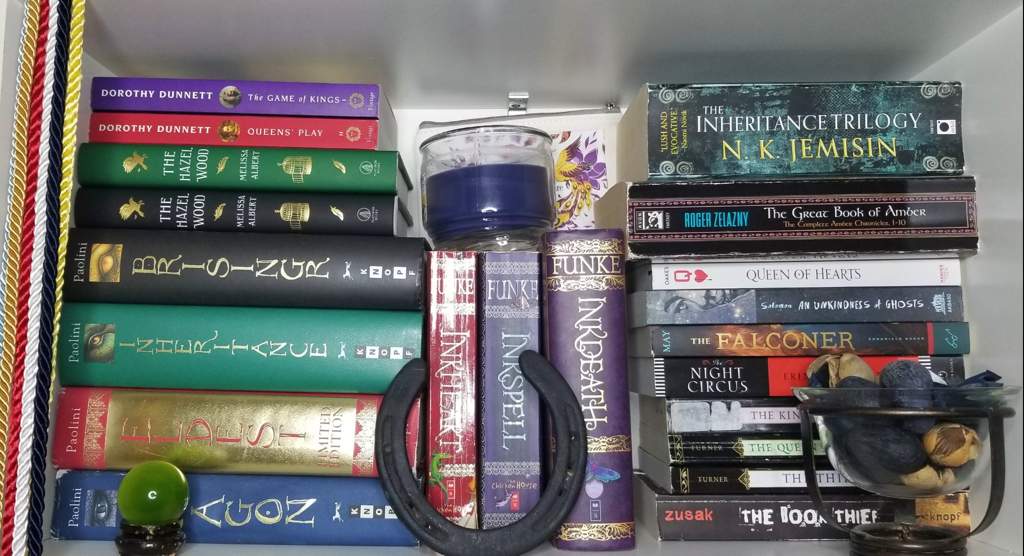 ---
This shelf holds another of my all time favorite series, Outlander! They are all in different formats which is why they don't go on the prettier shelves. There are also a few books here that were given to me by family members.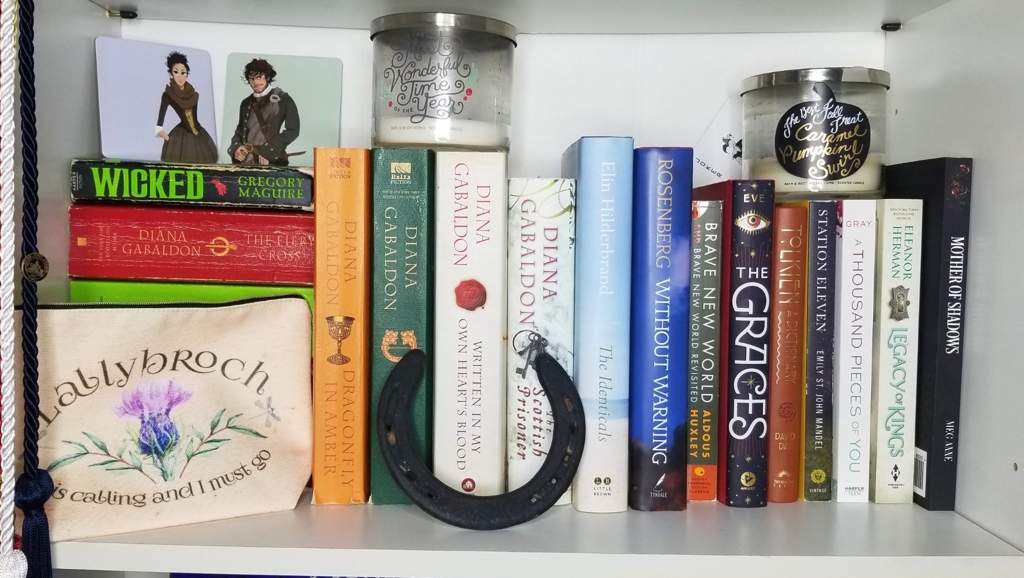 ---
This shelf has a lot of unread books, but some that I read and loved are The Hate U Give, The Nightingale, Zoo, Sarah's Key, and Truly Devious! There are also some really big books here that I really want to read but can't give all my focus to, which makes me pretty sad.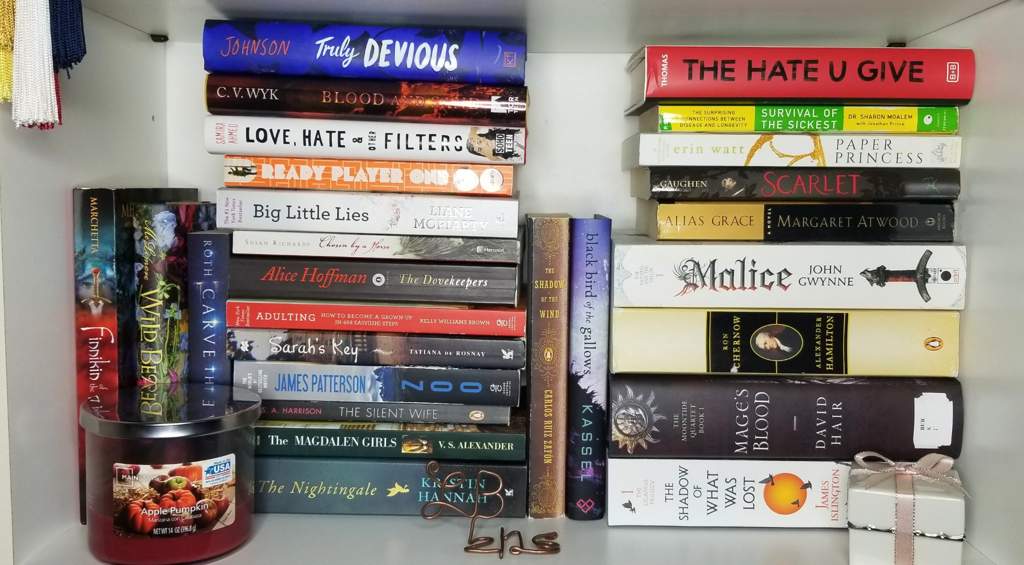 ---
This next shelf is really just a whole bunch of books thrown together, some childhood books like Fire Bringer and The Sight, Grave Mercy (which I loved!) and my coffee table book for Game of Thrones. It's not out on my coffee table because I currently have my LoTR from Script to Screen on my coffee table.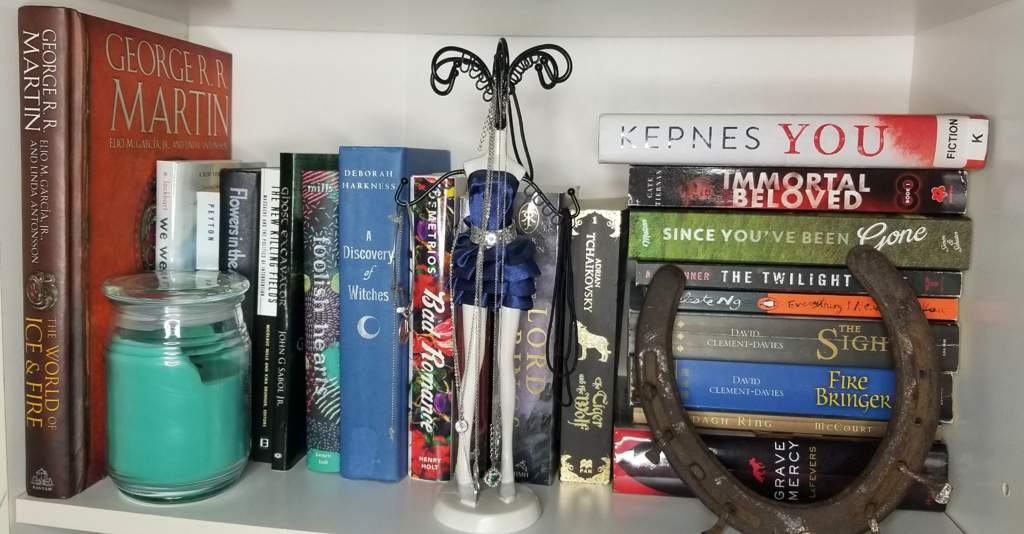 ---
And this last shelf holds some of my horse books (I was OBSESSED with horses growing up). It also has my playbills from when I was in theater in college, plus my diplomas and awards!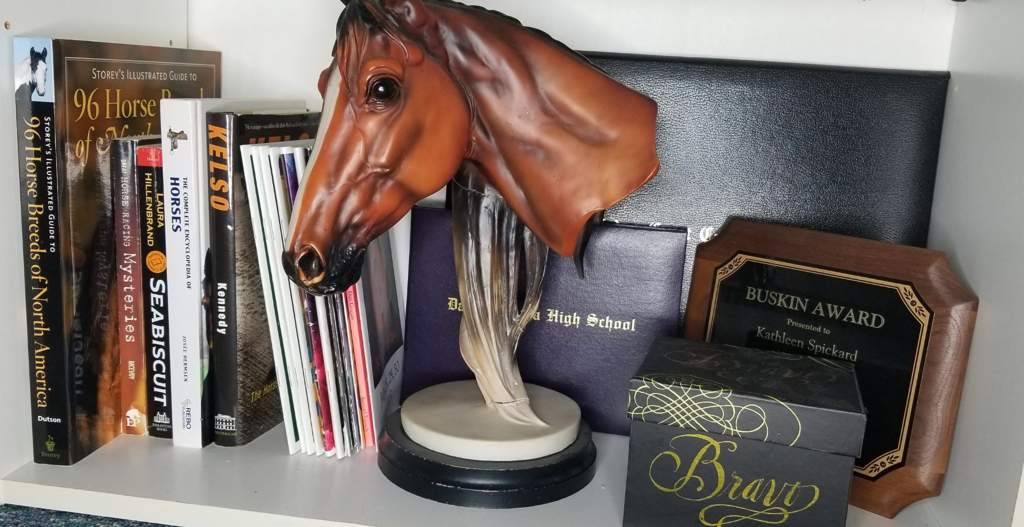 ---
Then these last few photos show the stacks of books spread throughout my apartment, including my beautiful editions of A Song of Ice and Fire, some books by my TV, and my gorgeous editions of Robin Hobb's Farseer and Liveship Traders series!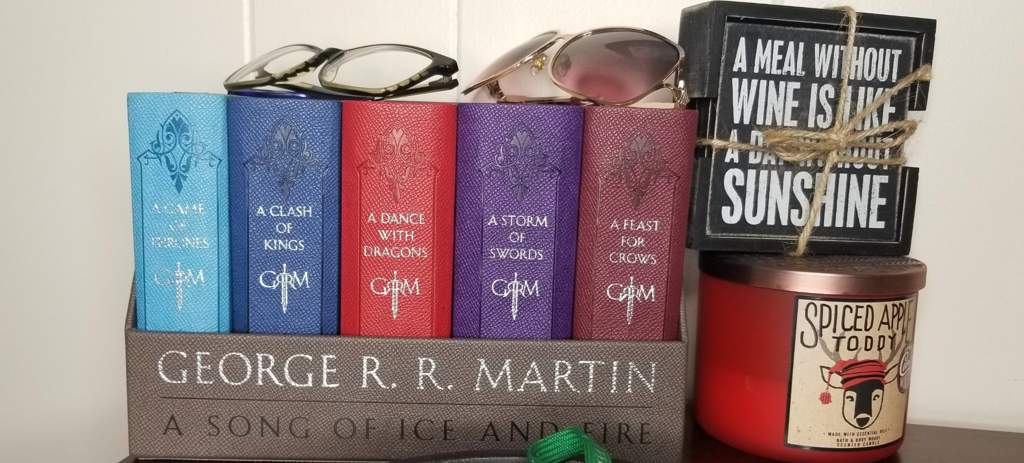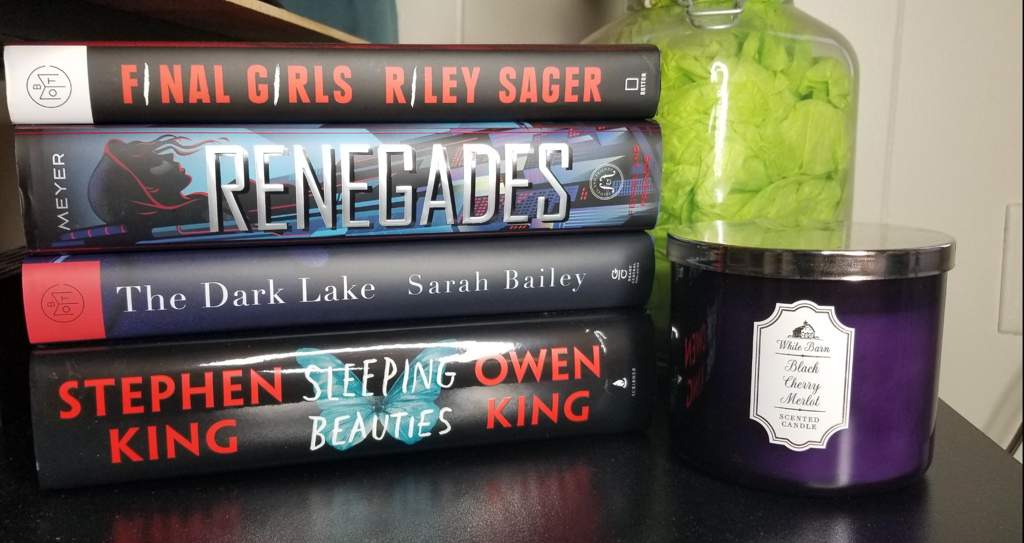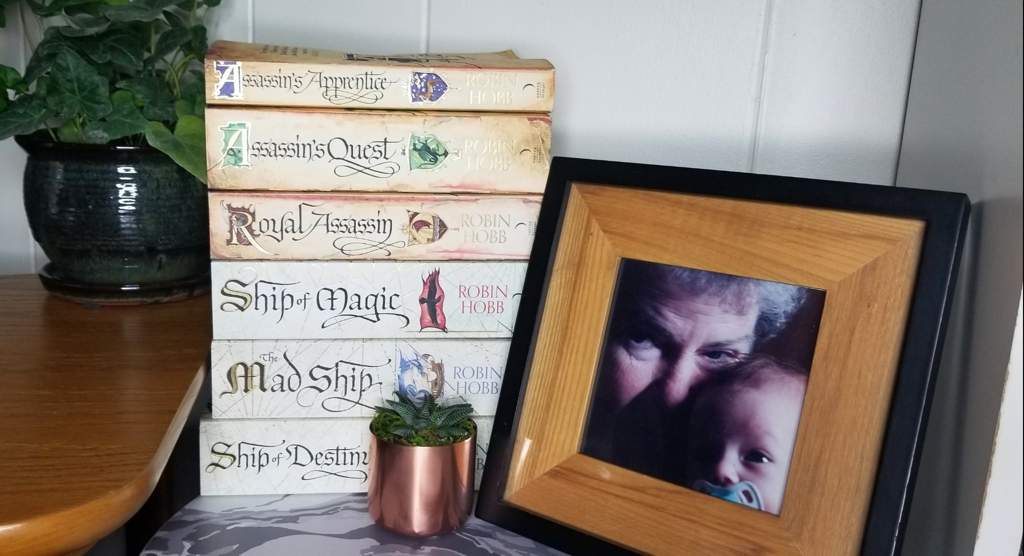 So that is it for my bookshelf tour! If you read this far, thank you! If you just scrolled through the pictures and are reading this, shame on you! (Just kidding, thank you for looking through my shelves!)
Let me know if you have any questions about the books on the shelves and I can try to answer them for you! Are there any books that you love? Ones you hate? Want to read? Want to throw out the window? Let me know!